DEEP is a new phosphor series additive flame retardant.
Being a colorless or light yellow transparent liquid, DEEP features high phosphorus content, good flame retardance performance, less addition, low price, convenient usage, low viscosity, and many other special advantages.
DEEP can dissolve in water and many organic solvents.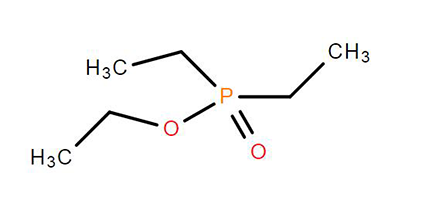 Cas No.:78-38-6
Molecular Formula: C6H15O3P
Molecular Weight:166.16
| Items | Value |
| --- | --- |
| Appearance | Colorless to yellowish transparent liquid |
| Content | ≥98.5% |
| Specific gravity(20℃) | 1.020-1.030 |
| Acid content | ≤1.0 mgKOH/g |
| Water content | ≤0.1% |
| Phosphorus content | 18.6% |
| Viscosity(25℃) | 1.5 mPa•s |
DEEP is a new efficient organophosphorus flame retardant. It can be added to various rigid polyurethane foams and foaming systems. Its flame retardant efficiency is 1.5~2 times TCPP.
DEEP is low in viscosity and does not contain halogen. Its chemical stability is good in the polyether polyol-isocyanate bicomponent system. Besides, DEEP is an efficient viscosity reducer. It improves the operability of aqueous foaming hard bubble and rigid polyurethane foam systems.
The DEEP dosage can be 20~25 shares for rigid foam complying with standard flame-retardant B2. However, DEEP is unsuitable for the system built with isocyanates, including a prepolymer and one-component polyfoam.
CONTACT IRO
Do you want to achieve more information?
Useful Information Help You To Enlarge Your Market Scope
CONTACT IRO